Showbiz
'Chakkar' or 'Ghabrana Nahi Hai'? Which movie should you watch?
It's been up to two years since the release of Pakistani movies in theatre on Eid. The last time I watched any Pakistani film on Eid was 'Jawani Phir Nahi Ani 2'. Anyhow, this Eid, a variety of desi movies hit cinema screens and I watched two of them. 
'Chakkar' and 'Ghabrana Nahi Hai' are two of the four major releases in Pakistani cinemas for Eid-ul-Fitr, and I had a chance to watch both of these movies. Now let's talk about how both of the movies kept the audience hooked until the last moment. And which movie I would recommend watching to save money and time both! 
Chakkar
Unlike Yasir Nawaz's other directional movies which are mostly comedies, 'Chakkar is a crime thriller featuring Neelum Muneer in a double role.
The movie begins with a promising note, where there are two sisters (concept of evil and good); one is Zara and another one is Mehreen. Zara is an actress by profession and Mehreen is a typical housewife.
Zara an arrogant actress is suffering both financially and professionally wise as well. Long story short, Zara exchanges her lifestyle with Mehreen, and in meanwhile living her sister's glamourous life, one of the sisters is brutally murdered!
The story moves around solving the mystery of how one of the sisters get killed and who was the mastermind behind it. With about 20 minutes left in the movie, the mystery finally gets unfolded with another chakkar, maybe at that, I knew why the makers named the movie 'Chakkar'.
After finding out the real culprit and the mastermind of the murder, it was still unclear what should we believe? Is the real murderer or there is another twist waiting for the audience? With a lack of real emotions and poor storytelling, Chakkar could have been fun to watch if its plot was keener.
Ghabrana Nahi Hai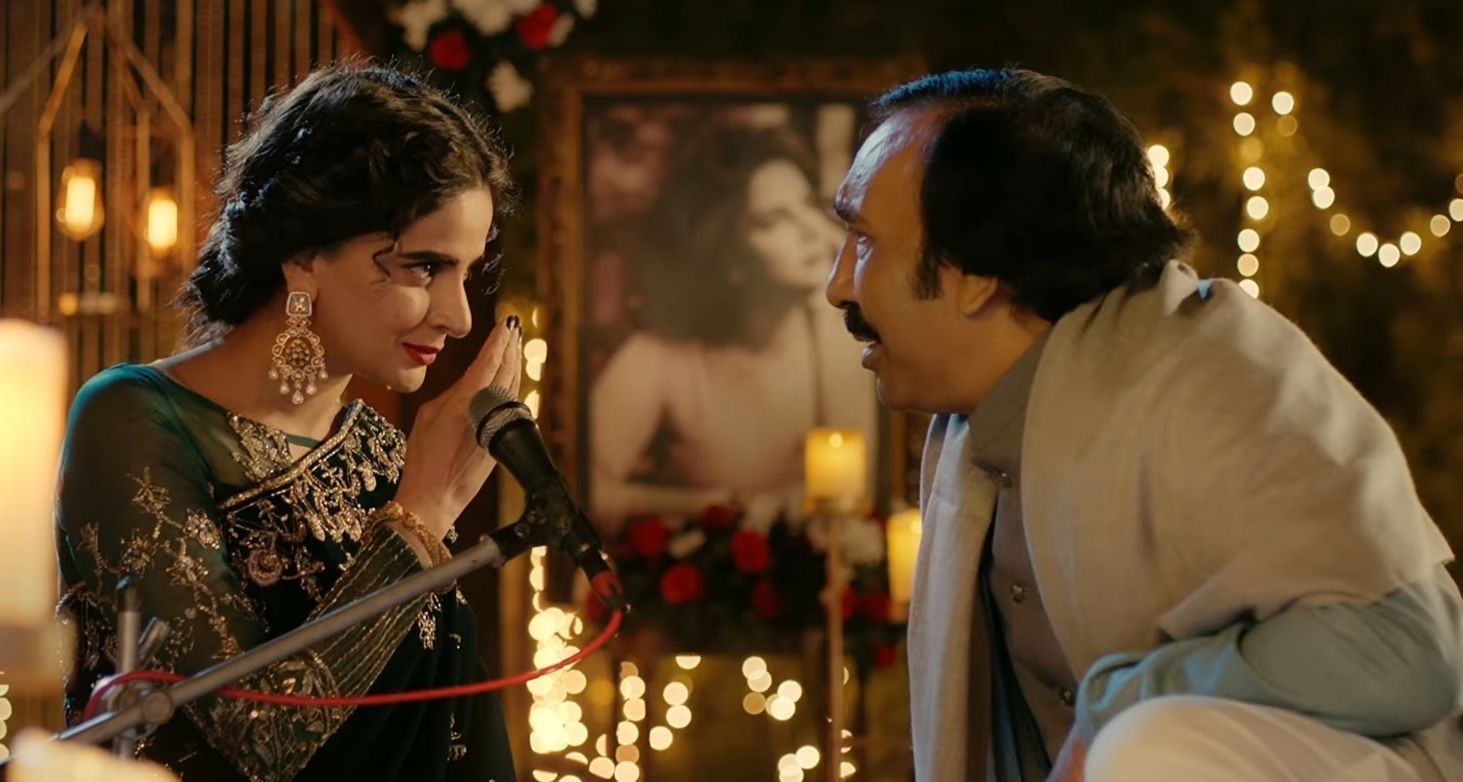 Based on the former Prime Minister and PTI Chairman Imran Khan's dialogue, Saba Qamar starrer 'Ghabrana Nahi Hai' has made us laugh right from its beginning.
Based on the genre of comedy, the movie indeed did justice to the overall plot. One thing I would like to mention which is despite the movie being a Saba Qamar starrer, it was uplifted by the brilliant performance of Syed Jibran Nasir whose outstanding performance kept the audience captivated to screen.
The movie begins with a love triangle but not in the traditional sense. Saba is seen romancing Zahid while on the other hand, she seems to be in love with Jibran.
In the movie, Zahid is playing the role of a corrupt cop, played by Zahid Ahmed who helps Saba get her home back. Jibran, who is Saba's cousin also tries his best to help his cousin with who he is badly in love. Then there comes Bhai Mian, the villain of the movie who also falls in love with Saba.
Skipping to the end scene, the movie could have ended on a way smoother note rather than dragging it a bit, like it could have ended way sooner but it was dragged a bit especially in the end. Also, movie's few songs were also a bonus to the film.
I could not decide to rate one movie as both of the movies did well, but for now, I vote for 'Ghabrana Nahi Hai' as our audience is still not ready for Pakistani movies which are based on thrill; maybe our filmmakers need to work on thrill, suspense and action more!